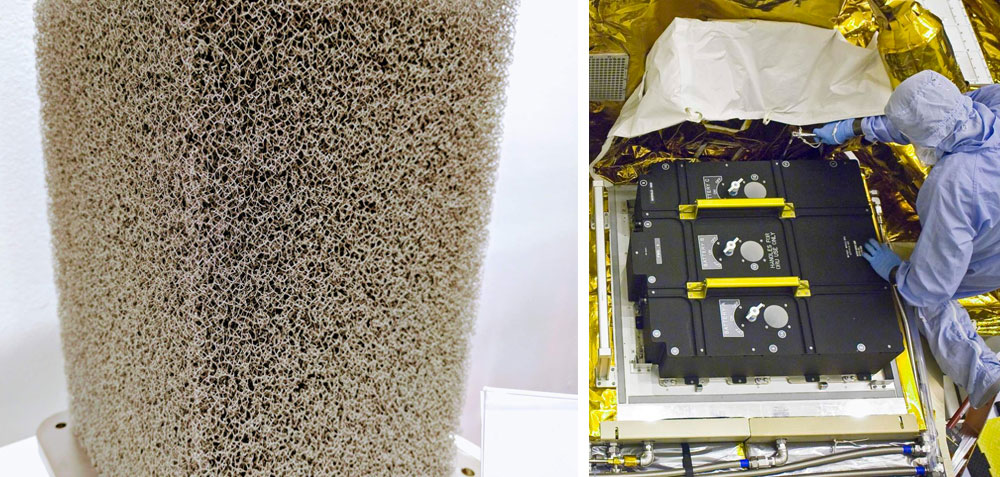 NASA gives grant for 3D printing of titanium dioxide foam, made using chlorine chemistry
Posted August 2nd, 2017
Can 3D printed titanium dioxide foam solar cells, batteries and radiation shielding help the National Aeronautics and Space Agency's (NASA) International Space Station (ISS) function more efficiently? NASA has awarded a $100,000 grant to researchers at West Virginia University (WVU) to explore the use of 3D printed titanium dioxide foam aboard the ISS, reports 3Dprintingindustry.com (July 12; press release). Research will take place at low Earth orbit – the first 100 to 200 miles of space – on the ISS.
The team will combine research in materials science and physics of liquid foams with 3D printing to further advance robotic printing of titanium dioxide foams. Titanium dioxide is produced using chlorine chemistry. Using 3D printing, the researchers aim to create extremely thin tubes of titanium dioxide, which rapidly transfer energy. In earlier promising research of this type, scientists at Nanyang Technological University of Singapore developed a titanium dioxide battery that could recharge up to 70 percent in two minutes and last 20 years – more than 10 times longer than current lithium ion batteries. NASA may explore the use of titanium dioxide foam to replace existing batteries aboard the ISS with longer-lasting alternatives, says 3Dprintingindustry.com.
The NASA-funded project with WVU will examine how the 3D printed titanium dioxide foams may break down in orbit, before exploring the feasibility of printing the foams in space.
WVU's Majid Jaridi, Professor of industrial management systems engineering, Kostas Sierros, Assistant Professor of mechanical and aerospace engineering, and Professor Emeritus John Kuhlman, will work with researchers at University of Rome Tor Vergata (Rome, Italy).